The Big Four are dominating the season through 19 NASCAR Cup series races, and ESPN's Ryan McGee has undertaken the bigger responsibility of ranking where Kyle Busch, Kevin Harvick, Martin Truex Jr. and Clint Bowyer fall in line. Here are the top 16 drivers in the Cup series prior to Sunday's race at New Hampshire Motor Speedway (2 p.m. ET, NBCSN).
Biggest mover: Erik Jones jumps nine spots from our previous ranking, from 14th to 5th. | Biggest losers: Ryan Blaney and Austin Dillon fall five spots each. | New this month: Chase Elliott | Dropped out: Ryan Newman | Also considered: Paul Menard, Ryan Newman, Reggie Ruggiero
Previous: 1

| Top-10s: 15
Trying to split the difference between Shrub and Kevin Harvick this season is like trying to split an M&M. It's nearly impossible. They both have five wins and 15 top-10s, and they hold down the 1 and 2 spots in points.
Previous: 2

| Top-10s: 15
So why rank Happy behind Busch? His record at New Hampshire is only slightly worse (3 wins to 2), as was his finish at the last race, held at Kentucky (4th vs. 5th).
Previous: 4

| Top-10s: 13
Meanwhile, this guy won at Kentucky and over the past five races has the same number of top-10s (4) and top-5s (4) as the top two, but has more than the other two, with, um, two.
Previous: 3

| Top-10s: 10
Then this guy is the only other guy with more than one win this season, sitting on two. In 1974, four guys won 29 of the 30 races run. That's not how will it end up in 2018, but it kind of feels that way, doesn't it?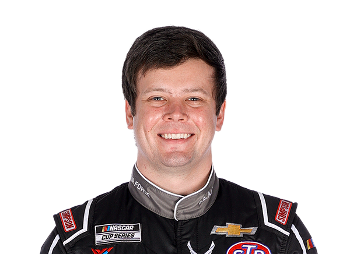 Previous: 14

| Top-10s: 9
Over the past five races, the only driver who has kept up with the Big Four has been this dude, with four top-10s and a win at Daytona. However, we have subtracted points because after that win he cut his mullet for a sponsor photo op.
Previous: 8

| Top-10s: 11
Bad Brad's last five finishes have been 6th, 13th, 9th, 36th and 3rd. Last week I took my family to an amusement park and the roller coasters weren't that up and down. Oh by the way, he still needs to win a race.
Previous: 5

| Top-10s: 14
BK's teammate has taken care of the winning part, but that was way back in April. In the nine races since, he has five top-10s and four finishes of 13th, 22nd, 19th and 38th. Wheeeee!
Previous: 10

| Top-10s: 10
Busch owns three New Hampshire victories, best among all active drivers. Actually, he's tied at the top of that list ... with six other drivers.
Previous: 9

| Top-10s: 11
If Young Money is going to regain his 2017 momentum and break the Big Three blockade, Loudon would be a good place to do it. He's never won there but has 4 top-5s in eight starts and two straight runner-up finishes.
Previous: 7

| Top-10s: 7
This is one of the guys on that tied-for-tops-in-Loudon-wins list.
Previous: 6

| Top-10s: 9
I'm not going into a bunch of stats here. I'm just telling you that he liked both "The Last Jedi" and "Solo" and he doesn't get all the hatred from old crochety Star Wars fans. I'm also telling you I'm with him. #TeamRyan
Previous: 13

| Top-10s: 8
Remember what I told you about Loudon being a good place for Larson to get going? Almirola will be lucky to make it out of the rental car lot. In 15 starts he has two top-10s and nine finishes of 20th or worse.
Previous: 15

| Top-10s: 6
Also on the tied-for-tops-in-Loudon-wins list. Crew chief Chad Knaus signing a contract extension ensures that the No. 48 will stay off another list. The "What if they'd stayed together?" group occupied by Evernham-Gordon, Inman-Petty and Junior Johnson-Yarborough/Waltrip.
Previous: NR

| Top-10s: 8
On Sunday, while driving down to SEC Media Days, Marty Smith and I called Elliott to ask if fireworks were illegal in Georgia. He said yes, that he and his friends would drive to South Carolina to buy them. Then he refused to share any further because he and his friends and their illegal explosives "got into some trouble."
Previous: 12

| Top-10s: 7
Fun fact: I'm told that the guy who used to drive the No. 88 car has a book coming out in October and that his co-author is a really handsome ESPN writer who looks a lot like Johnny Benson.
Previous: 11

| Top-10s: 3
Has he run well this summer? No. Did he run well at Kentucky? Nope. Is he ranked among the top 16 in points? Nah. But does he own a 2018 Daytona 500 championship ring? Heck yeah he does.