Mayfield catches 2-point conversion after Hyde's TD
Mayfield pulls out tricks from Rose Bowl
Baker Mayfield pulls off a trick play, where he catches a 2-point conversion, similar to a play he executed for a touchdown in the 2018 Rose Bowl.
Hyde pounds it in to give Browns the lead
Carlos Hyde takes the handoff and finds the end zone for the second time to give the Browns the lead over the Jets.
Darnold's INT seals Browns' first win in 635 days
Sam Darnold's pass gets picked off by Joe Schobert in the fourth quarter, which seals the Browns' victory over the Jets.
Mayfield: 'Gotta handle business next week' in Oakland
Baker Mayfield is going to enjoy the win with his teammates, but isn't losing focus on the big picture.
Mayfield: Cleveland 'deserves' to win
Baker Mayfield is looking toward the future after winning the Browns' first game in 635 days.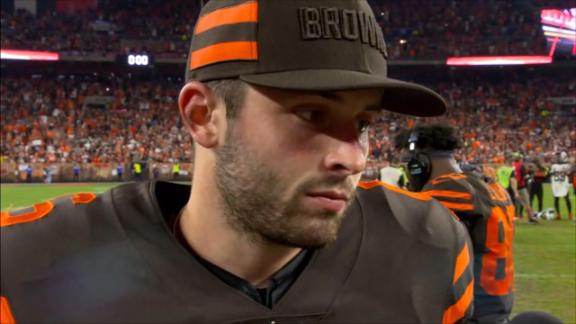 Bowles on Jets' loss: 'We lost our composure'
Jets head coach Todd Bowles explains what went wrong for his team in their loss to the Browns on Thursday night.
Darnold takes responsibility for loss
Sam Darnold reacts to the Jets' loss to the Browns, taking responsibility for the "stagnant offense" and says he needs to play better.
Jackson always had faith in Mayfield
Hue Jackson never doubted Baker Mayfield's talent and knew he would get his shot one day.
Mayfield: Cleveland 'deserves' to win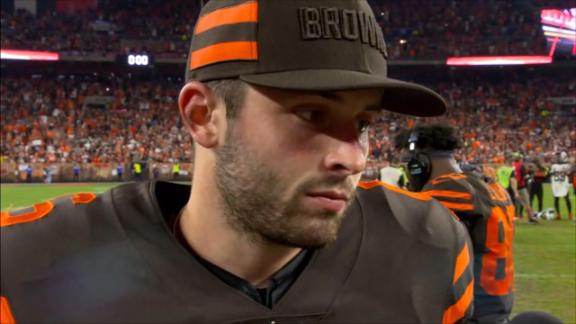 Landry: Browns 'are going to be great'
Jarvis Landry applauds Baker Mayfield for stepping up and expects big things from him moving forward.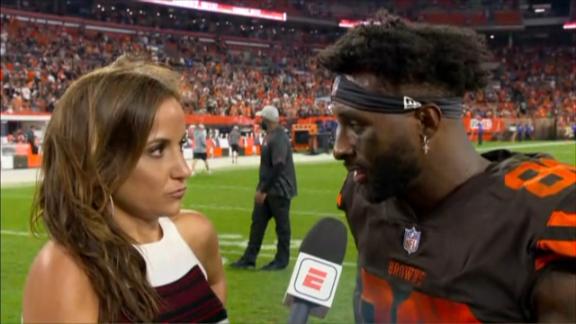 NFL Draft

It's not too late to play!
Super Bowl paths for all 32 teams
ESPN Illustration

Every team has a chance to win the title, but some of those chances are 0.1 percent or less. Here's what each team needs to happen to win it all.
ESPN Illustration

The men who have thrown passes to the Cardinals' future Hall of Famer offer an insider's view of his exploits on the field and character off it.
ESPN Illustration

Before the season kicks off, our experts pick all the big NFL awards.
Customize ESPN