NBA
Celtics close out Chicago with dominant win.
Avery Bradley scores 23 points and Isaiah Thomas puts up 12 of his own to lead the Celtics to an easy victory to eliminate the Bulls in six games.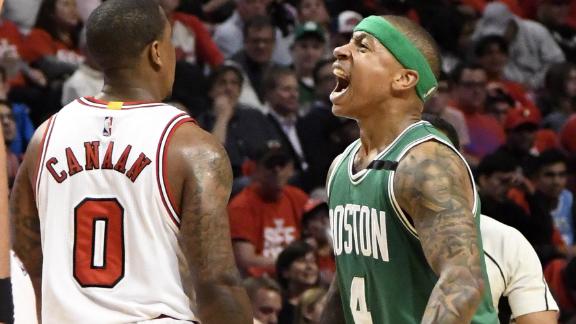 Clippers stave off elimination.
With the Jazz down 10 and 1:29 remaining in the game, they try to mount a comeback, but the Clippers survive 98-93 and force Game 7.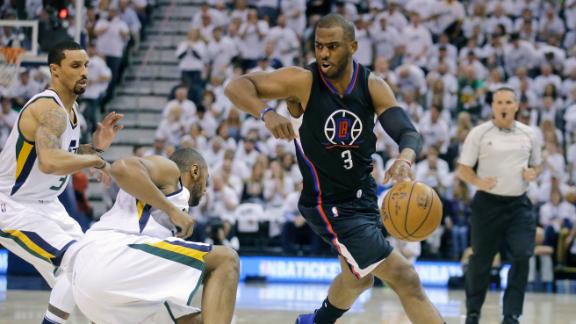 NBA
Ballmer amped up as Clippers force a Game 7.
Austin Rivers' 3-pointer got Steve Ballmer pumped, but Chris Paul's 29 points got the Clippers a Game 7 date with the Jazz.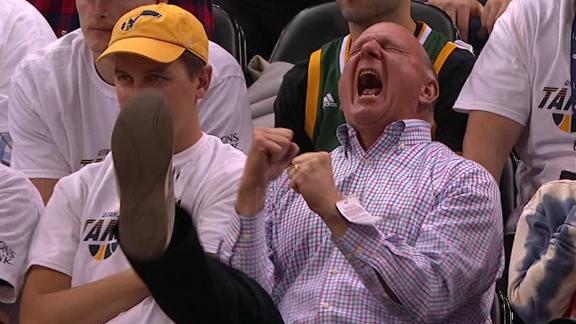 Wall takes over to close out Hawks.
John Wall put the Wizards on his back in Game 6, scoring 42 points and sending Washington to a second-round matchup with Boston.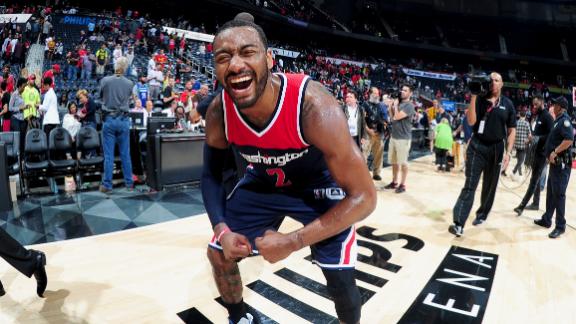 Hawks
NBA
Pacers
NBA
Pacers
NBA
Pacers
NBA
Is Bird leaving because George plans to?
Brian Windhorst and Ramona Shelburne believe the prospects of rebuilding the Pacers without Paul George could be a motivating factor.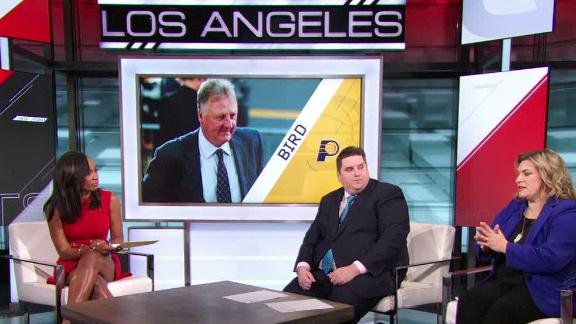 Pacers
NBA
Stephen A. believes the pressure on Bird mounted.
Stephen A. Smith believes Larry Bird did not want to recruit talent if George is going to walk away from the Pacers.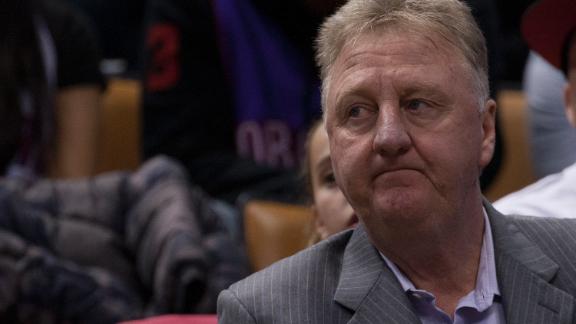 Spurs
NBA
Spurs close out Grizzlies in six games.
Kawhi Leonard leads all scorers with 29 points while Tony Parker contributes 27 as San Antonio tops Memphis to win the series 4-2.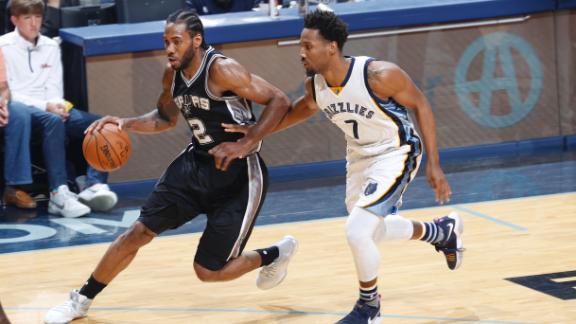 Spurs
NBA
Knicks
NBA
Knicks
NBA
Knicks
NBA
Thunder
NBA
Thunder
NBA
Thunder
NBA
Are Thunder committed to winning with Westbrook?
Stephen A. Smith wonders if Thunder owner Clay Bennett and GM Sam Presti will see this year's season as an opportunity lost to surround Russell Westbrook with better talent.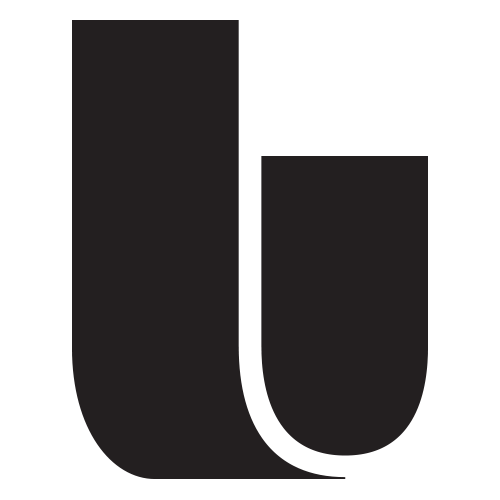 The Undefeated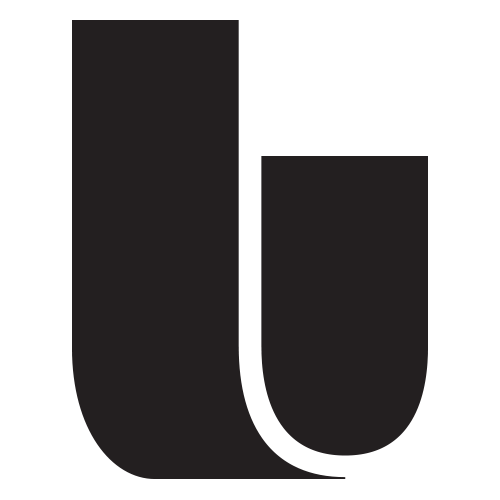 The Undefeated
Thunder
Season recap
Thunder
NBA
Westbrook's season must-see every night.
Relive Russell Westbrook's epic 2016-17 season with moments and stats for the history books.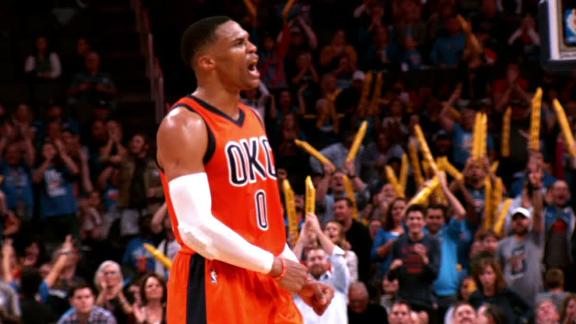 Thunder
NBA
Russ' top plays from an epic season.
Watch his best plays from a season for the ages.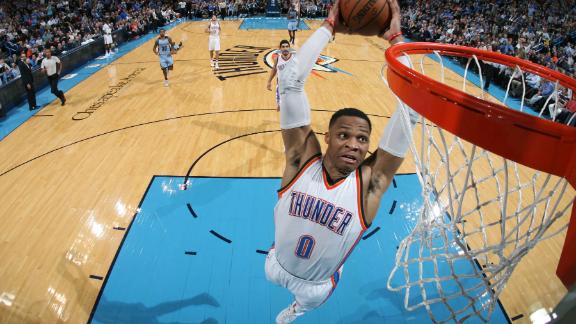 Customize ESPN
Jesse D. Garrabrant/NBAE/Getty Images

A daily look at the Basketball Power Index projections for the NBA playoffs, broken down by series.
Layne Murdoch/NBAE/Getty Images

Are Russell Westbrook and the Thunder on the rise? What trades should they make? Our 5-on-5 crew debates and predicts OKC's next moves.
Wilfredo Lee/AP Photo

This was the NBA legend's most difficult season in 50 years. So why, after nine championships, doesn't he just walk away? If only it were that easy.
David Richard/USA TODAY Sports

At 32 years old, LeBron James remains superhuman, able to carry the Cavs while playing an unprecedented number of minutes. But even superhumans have their limits.
USA TODAY Sports, Icon Sportswire

Chad Ford provides the latest intel on who is entering the 2017 NBA draft and who is staying put.
ESPN

What are the odds the Suns, Celtics or Lakers land the No. 1 pick? Which teams could get lucky and vault to the top? Chad Ford breaks down 2,184 scenarios, based on the actual NBA lottery.