It might not have been a brutal U.S. Open as of the past, but the Erin Hills test revealed a champion with a strong championship record.
For the final gradings of the week, we take a look at the four players who were still standing from the world's top 10, the top four on the 54-hole leaderboard, and a few notables from Sunday's play.
Grade: A
A major championship career-best finish (T-2) for the 25-year-old, who smashed five birdies in his final eight holes to set a target that briefly looked like it might test the on-course leaders. Alas for him, Brooks Koepka was just too good, but this is another step in the right direction and Matsuyama didn't go low once, he went really low twice.
World ranking: No. 4
Score: 74-65-71-66 (-12) (T-2)
---
Grade: D+
It will be at best scant and at worst no consolation that he departed Erin Hills with his best score of the week. Saturday we noted how much it would hurt that he finished his round before the leaders went out. On Sunday, there was a fringe benefit because his friend, Justin Thomas, was the leader, so Spieth had an encouraging word. We grade for golf, but if we were grading solidarity? Straight A.
World ranking: No. 5
Score: 73-71-76-69 (+1) (T-35)
---
Grade: C
An 11th U.S. Open top-25 finish and a solid response to his Masters victory in April. Striped 12 of 14 fairways on Sunday to end the week as the highest pre-tournament major winner on the leaderboard.
World ranking: No. 7
Score: 70-71-71-72 (-4) (T-21)
---
Grade: C
Major championship golf is tough. Fowler was supreme on Thursday, but it's difficult to maintain that pace through 72 holes. He coped well with a stumble in Round 2, but appeared stuck in third gear throughout the weekend. The ingredients are all there, he just needs to find the right recipe.
World ranking: No. 9
Score: 65-73-68-72 (-10) (T-5)
---
Grade: A+
He dropped plenty of hints that he'd make his major breakthrough in this championship, both in recording three top-20 finishes in the past three years and saying earlier in the week that he enjoyed the challenge of feeling pressure on every shot. In the final round he backed that up, hitting 17 of 18 greens in regulation as he poured on the pressure. His fellow pre-round contenders hung on to his coattails beyond the turn before, one by one, they fell away, bowed by his relentless excellence.
World ranking: No. 22
Score: 67-70-68-67 (-16) (1st)
---
Grade: B+
Having missed just five fairways through 54 holes, it didn't bode well when he failed to find the short grass at either the first or second. But he refused to drift from the top of the leaderboard, keeping greater pressure on Koepka than anyone else in the field managed. The only real drift in evidence was the gap between his group and the penultimate one, as his pace proved glacial. Slow and steady didn't quite win the race, but it impressed many who had previously underestimated him.
World ranking: No. 50
Score: 67-70-67-67 (-12) (T-2)
---
Grade: D
We discussed Saturday just how difficult it is to go low two rounds in succession at the U.S. Open, and Thomas reiterated that Sunday. Having flushed everything in Round 3, his first shot in the final lap was errant (a pull into the hazard) and, although he saved par, he made three bogeys in the next four holes. The first time he has been in contention when it matters in the majors and unlikely to be the last. If he's good enough, lessons will be learned.
World ranking: No. 13
Score: 73-69-63-75 (-8) (T-9)
---
Grade: B
The Englishman came into this week having missed six cuts in seven major championship appearances, but belied that inexperience with a mature display that was maintained through Sunday. Three front-nine bogeys hurt his cause, but he stayed strong to claim solo fourth. Long admired on the European Tour, this year he has proved himself at a World Golf Championship event and now a major. Next up? The Open Championship just down the road from his childhood home. Perfect.
World ranking: No. 33
Score: 67-70-68-72 (-11) (4th)
---
Grade: B
A wonderful week for the Wisconsin-native and he ended it in style with a pair of 69s. Three birdies in his final five holes ensured he was cheered all the way to the clubhouse. He badly wanted to play this week and having qualified at sectionals, he made the most of every minute.
World ranking: No. 85
Score: 73-72-69-69 (-5) (T-16)
---
Grade: D
Yet another golfer to prove that breaking 70 immediately after shooting 65 or lower is big ask in this championship. But in Reed's case there is extra reason to be rueful because his résumé still lacks a top-10 finish in the majors. That's a big gap for a golfer with his ambition and self-belief.
World ranking: No. 19
Score: 68-75-65-74 (-6) (T-13)
---
Grade: C+
The chances are that this week, the Big Easy's 25th consecutive appearance in the U.S. Open, is also his last and there's no way that should pass unrecognized. Ten times he finished top-10, twice he ended the week triumphant. At 4-under-par through nine holes this week, he gave us a glimpse of the good old days, when Ernie was one of the best the game has seen.
World ranking: No. 401
Score: 70-72-79-74 (+7) (T-55)
---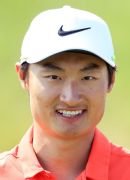 Grade: F
Impossible not to grade a fail, but a word to the wise: Don't be fooled by the 21-year-old's disastrous weekend in his major championship debut. If the 82-84 jars, then news that he needed 74 putts might cause convulsions. However, there's something about Haotong. Give him time and remember the name. First impressions can be deceiving.
World ranking: No. 128
Score: 74-70-82-84 (+21) (68th)
---